An individual approach to your health
Chiropractic Solutions News – December 2018
Welcome to our last newsletter for the year! From all at Chiropractic Solutions, we would like to thank you for a wonderful year, and wish you all an enjoyable and safe time over the end of year festivities and holidays. Please take note of the clinic hours over this holiday season, and the changes to Dr. Neil, Dr. Luke and Dr. Justin's hours. As usual, we have some great articles of interest and clinic news. Please read on, and have a great month!
Clinic news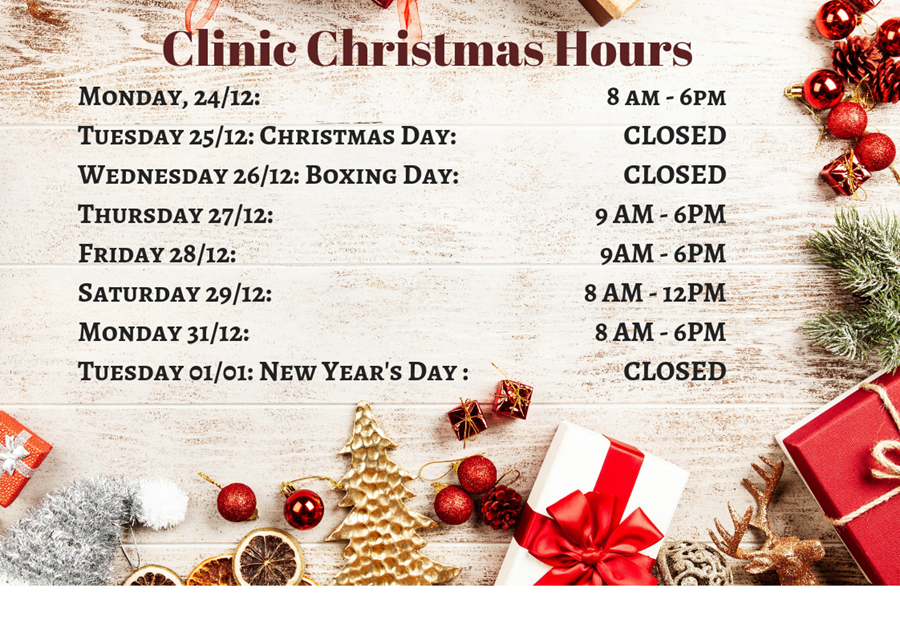 Dear Patients of Dr. Luke,
As you know, Dr. Luke has a particular interest in working in sports science and rehabilitation for athletes, and in order to pursue that interest closer to home, he will be reducing his hours at Chiropractic Solutions from January 1st 2019. Dr Luke will be available on Tuesdays and Thursdays from 2-7pm. Dr. Neil and Dr. Justin will be continuing your chiropractic care on the other days of the week and are looking forward to meeting you. Please see below for the updated clinic hours. Any further questions, please speak with Dr. Luke.
Dr. Luke will be having an extended holiday with his family from December 25 through to January 14 2019.
Normal clinic hours resume as of January 2, 2019.
Dr. Luke was busy working hard with fellow Sports Chiropractors at the World Lifesaving Championships recently, treating hundreds of athletes each day!
Help is at Hand this Christmas
This article, from the Spinal Health Blog of the Australian Chiropractic Association, is certainly worth revisiting at this time of year. Between finishing off the Christmas shopping, writing holiday greetings and attending a host of festivities – it's easy to see why Christmas is known as the 'season of giving'. As we continue to give of ourselves, we can easily overlook our own health and wellbeing, and ignore the symptoms of back pain.
One in six Australians are experiencing the physical and psychological effects of chronic back problems. Of the estimated 3.7 million people suffering from chronic back problems, many are also likely to suffer from poor quality of life and are unable to engage in an active, healthy life.[1]
With around 70-90% of Australians suffering from lower back problems at some point in their lives [2], it is fast becoming a major public concern. It is important that all of us, even Santa Claus, can identify chronic back problems and take steps to reduce its effect and try to prevent it.
Chronic Back Problems and Chiropractic
The Australian Institute of Health and Welfare (AIHW) defines chronic back pain as a long-term condition. General back pain is usually resolved within a few weeks or months but back pain that lasts for three months or longer is described as 'chronic'.
Chiropractors are qualified to address musculoskeletal disorders and may help relieve the symptoms of chronic back pain. Even at early stages of acute back pain, chiropractors can advise on appropriate measures. Chiropractors use a variety of techniques such as spinal manipulation and manual therapy. They also advise on appropriate lifestyle and dietary modifications to help patients lead healthier lives, and work with other healthcare providers where needed.
For many of us, back pain can be prevented or managed with appropriate lifestyle changes and care. It is never too late or too early to take steps to improve spinal health. Improving your overall lifestyle can help prevent chronic back problems and may also address other health issues.
Stay Active
People with chronic back problems may find it difficult to exercise but they should try to remain as active as possible. With the combination of warm weather and extra time off, Christmas is a great time to get active. You could walk to some local Christmas displays, enjoy some window shopping or even volunteer to help people in your local community.
Use the Just Start Walking app (to incorporate walking into your daily routine. Download the Just Start Walking app from the App Store.
Lifestyle Changes
Poor posture increases pressure on your spine and can cause tension, soreness, headaches, back pain and fatigue. Good posture keeps the body in its best shape and natural position. When undertaking repetitive activities, such as hanging Christmas decorations, wrapping presents or cooking up a Christmas feast, be mindful of your posture and make sure to take breaks.
Download the Straighten Up app from the App Store or get it on Google Play to receive reminders and helpful tips on how to improve your posture.
For more information on maintaining a healthy spine, please call 9557 0251.
[1] 1 in 6 Australians have chronic back problems (AIHW). aihw.gov.au 2017. Web.
[2] What are back problems? (AIHW). aihw.gov.au 2017. Web.
Healthy Gingerbread (and a lovely spice mix to gift)
Try this wonderful – and healthy – gingerbread recipe. The spice mix is a delight, and there are plenty of other ideas to put it to good use. Terrific to enjoy on Christmas day, or better yet, gift someone.
Let us know how you go with the recipes! Either post your pic to our Facebook page or use the hashtag #chirosolutions on twitter & instagram.
Childhood physical inactivity reaches crisis levels around the globe
Children around the world are not moving enough to maintain healthy growth and development, according to a new global report. The report compared 49 countries from six continents to assess global trends in childhood physical activity in developed and developing nations, resulting in the 'Global Matrix 3.0' comparison of grades.
The free, easy, exercise that's right under your nose!
Most of us can do it, and you don't need a gym membership to sign up to this lifetime club. You know it, you love it, and you do it every day… it's walking! Just 30 minutes a day of brisk walking can increase your cardiovascular and pulmonary (heart and lung) fitness, reduce your risk of heart disease, increase your muscle strength and endurance, and improve your spinal health.
Walking isn't just good for you — it's good for the economy
It's a truism that walking — as with most forms of exercise — is good for you. But walking isn't just good for your physical and mental health; it's also good for the economy. And we're talking billions.
How Stress Can Shrink Your Brain and 6 Ways to Keep It from Happening
We tend to most commonly associate stress with irritability or tears, but it's not always so obvious. Cognitive signs of stress can include memory loss, difficulty thinking, concentrating, and decision-making. Stress can manifest as physical symptoms as well. For instance, you may experience fatigue, weight loss, headaches, digestive problems, body aches, and joint pain. Prolonged exposure to stress can take a toll on your body and brain. Help maintain brain size and function as you age with these tips.
Vitamin D levels in the blood linked to cardiorespiratory fitness
It is well established that vitamin D is important for healthy bones, but there is increasing evidence that it plays a role in other areas of the body including the heart and muscles. This study investigated whether people with higher levels of vitamin D in the blood have improved cardiorespiratory fitness. "Our study shows that higher levels of vitamin D are associated with better exercise capacity,"
Why adding weights to your fitness routine should be a no-brainer
When it comes to boosting heart health, many people think of running, walking or other cardio-based activity. But if you're not adding some form of bone-strengthening, muscle-boosting resistance exercise as well, you could be missing out.